Hello All,
I write this post to you from my new internet connection…..that's right i'm tethered to my cell phone over bluetooth IN LINUX! I am a happy camper….one step closer to complete linux migration!
Well for those who care, I'll be posting the steps I used below…
Credit, where credit is due….I used the information from both of these sites to get up and running:
http://glyf.livejournal.com/65878.html
http://litljay.com/howtos/tether/kppp.html
Now onto the goods!
1) You have to check and see if bluetooth is running on your linux box. For me I had to flip the wireless switch on the front of the computer AND fn+f8, which is the wifi signal thing. This turned on the bluetooth for my laptop. This is the command to see if linux detects your bluetooth:
hciconfig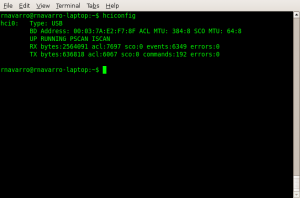 2) Next we scan for the phone and check to make sure that it reports DUN (Dialup Networking) support.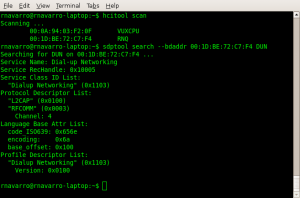 3) As root we need to edit "/etc/bluetooth/rfcomm.conf". You have to uncomment the rfcomm connection to create the BT serial adapter. Be sure to take note of the device address from above and the channel number! mine below: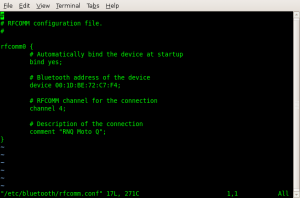 4) Next we install the "gnome-ppp" package..
sudo apt-get install gnome-ppp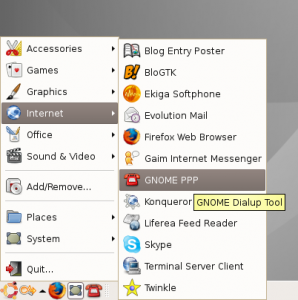 5) We then open that app up and configure it. For me I had to use "[email protected]" for the username and "CINGULAR1" for the password.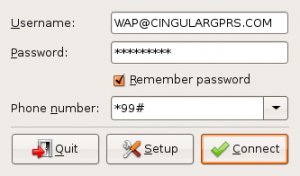 6) Now we are going to change the settings of the connection. Press setup, and below are the screenshots of my configuration. Note, I have updated the DNS servers to point to OpenDNS (highly recommended)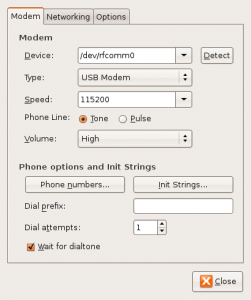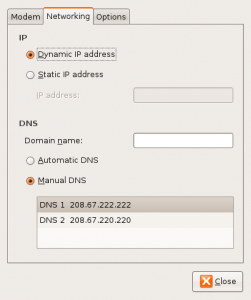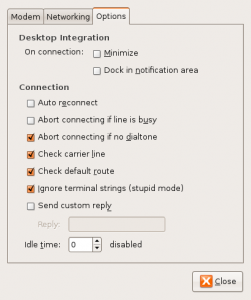 7) On the first tab, "Modem" click the "Init Strings" button and configure it as it is below: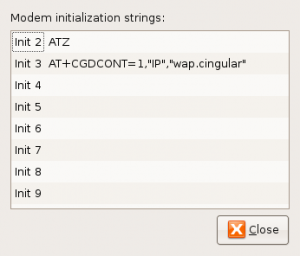 8) Now we completely restart the bluetooth service. When it restarts it should make a connection to your phone. Use the same password on both your computer and your phone and it should connect.
9) Lastly, press the connect button on your PPP Dialer and cross your fingers!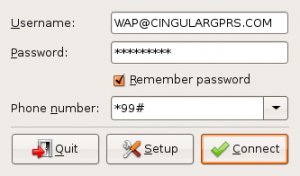 10) Success! (hopefully)